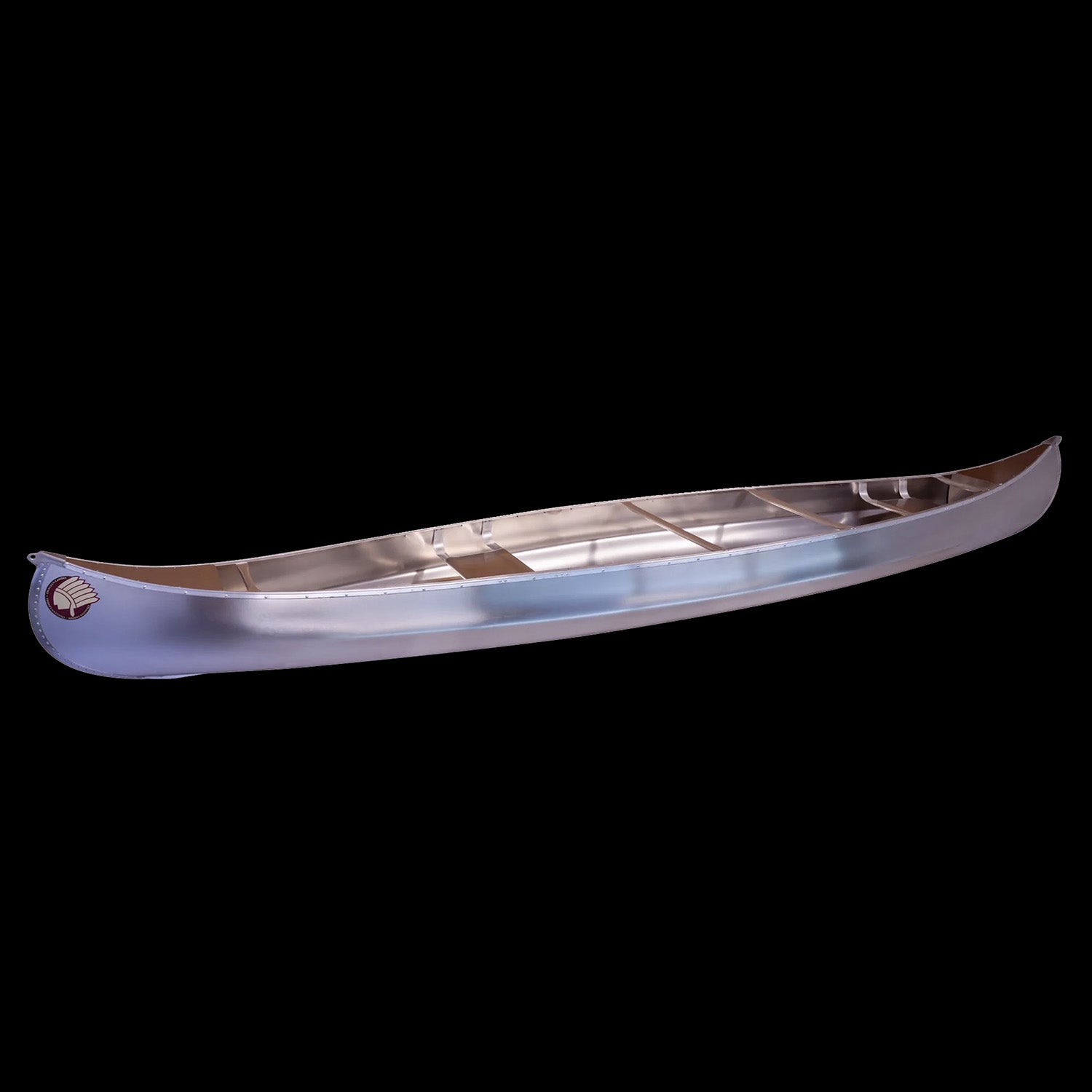 17 STDX
17.STDX.2 (4) (*2) is a 17-foot canoe build extra wide, so it's perfect for family trips on flat water where it provides extra stability. The canoe comes with 2 fixed seats, and you can upgrade with 2 additional, loose seats, so there is seating for 4.
17 ft aluminum canoe with 2 fixed seats with the possibility of mounting 1-2 extra loose seats on the cross bars.
Extra wide model for the family, which emphasizes the extra safety and stability.
The model is best for still water, where it provides good stability.
17.STDX.2 (4) is a good canoe for the family who want a good, stable and robust canoe that can take them on adventures in still waters. If you are looking for a more all-around canoe, we recommend the 17.STD >>
What to choose: Extra wide or standard?
17.STDX is a wider version of our popular 17.STD – and the main difference is that the X model is a bit wider.  It may not sound like much, but it makes a big difference to the experience if the canoe is heavily loaded and the kids have a little difficulty sitting still when you head out on the water. 
The wide model provides extra stability – therefore it can be a good choice if the whole family is going on a trip and there will be a little extra life in the canoe. However, if you choose the wide model, we recommend that you avoid waves  – the extra width makes it easier for waves to tip the canoe. 
If you already know that the family trips will take place exclusively in still water, the X can be a really good choice.
If you are in doubt whether to choose the regular or extra wide model, we typically recommend going with the regular 17.STD, which is more versatile. 


3 things you need to know about 17.STDX.2 (4) (*2):
Canoe with extra width.

The OSAGIAN

17.STDX.2 (4) (*2) is wider than our other models, so it has extra stability – something that many beginner families appreciate. 


It is best on still water.  The extra wide bottom means that the canoe risks tipping in the waves. On flat water there is no problem, and here the canoe is incredibly stable and easy to control. Our other canoes are also incredibly stable, but the wide model can be good for you if the kids find it difficult to sit still and you have larger packs with you on the trip. 


One of the market's most robust canoes.

  All canoes from

OSAGIAN

are handmade in

Denmark

, and every detail has been taken care of. This means that you get a stable and robust canoe, which thanks to its design and raw aluminum does not require maintenance. 



An extra stable canoe for family floats on flat water
Are you ready to go on an adventure?  It will quickly become that when you hit the water in our extra wide 17-foot aluminum canoe. The canoe  is well and stable on flat water, and there is plenty of room for cargo, so the whole family can go on longer trips and experience togetherness and nature up close. 
17.STDX.2 (4) (*2) is best for: The slightly cautious family or the family with lively children who do not have much canoeing experience, who will primarily sail on flat, still water.

Length: 519 cm
Width: 91 cm
Depth: 33 cm
Weight: 36 kg
Capacity: 3 personer / 365 kg